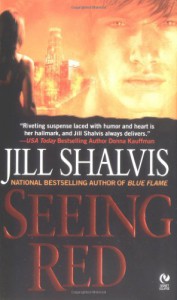 Summer Abrams and Joe Walker were best friends. They grew up together, went to school together, and she stood by him when he was being bullied by their peers. She was always there for him when he'd creep into her bedroom after going another round as his drunken father's punching bag. She was his rock and he loved her. She loved Joe, but as a friend. Though his stigma of being the "fat kid" didn't bother her, she was hopelessly besotted with the school jock. Then an altercation and a tragic accident that killed her father changed both of their lives forever. Summer leaves shortly after graduating without a good bye or a backward glance. Twelve years pass before they see or speak to each other again, but the circumstances are anything but good. The rebuilt warehouse belonging to her family has burned down for a second time, and Summer has returned. Joe is now the fire marshal and responsible for investigating the cause of the fire. Feelings, both old and new, swirl between whenever they're together. But any kind of future they may have is uncertain because of their commitment issues, and there seems to be an arsonist endangering their lives. The question is, will they be able to defeat their personal demons before they destroy any chances at love or will the very thing they fear be their demise?
I have only read one other book by this author, and I loved it. The majority of my friends have had high praises for her Lucky Harbor series. I haven't read any of them yet, but I heard they were incredibly romantic. I'm going to make the assumption that the Firefighter series is at the opposite end of the spectrum. Not to say this wasn't romantic, but it had a very healthy dose of angst throughout the entire story. After reading the excerpts for the other two books, I think there will be a common theme of a heroine who looked up to the male parental figure in her life, and after losing him becomes emotionally stunted. In other words, don't fall in love because losing that man would be heartbreaking.
Summer was one such heroine. She was broken and still suffered the after effects of that tragedy twelve years ago. She had occasional panic attacks, she didn't like closed spaces, she was estranged from her mother and the rest of her family, and she wasn't capable of having anything more that no strings attached sex. She was seen as someone who ran from her problems, so when she decided to stay a while and help her mother, no one believed her. She felt unwanted, left out and very alone. The first time she made advances on Joe, he rejected her and that stung. According to her, no man had ever turned her down. She wasn't a bad person, she just never dealt with her feelings in a proper or healthy manner. Therapy would have done her some good.
Joe was a little broken as well. He always got dumped because of his inability to open up, and he let work get in the way of his personal life. Even though he'd gotten older and matured, he still felt like the fat loser he was in high school. I guess the weight came off, but the scars remained. When Summer returned, he couldn't forget his old feelings for her, but he showed incredible restraint towards her. What I loved about him was that he never took any crap from Summer. He made his feelings clear every single time – what he did and didn't want. In my eyes, he was practically a saint. He stole the show, and he had the best lines.
There is no denying that there was chemistry. Their tiptoeing around old feelings and difficult conversations pulled at my heart strings, but I can't say that I liked Summer. I understood her pain, but if she could show some empathy for her mother and her cousins, I didn't see why she couldn't do the same for Joe. I disliked her more every time she would deflect a question or an uncomfortable situation by baiting Joe with sex. He continued to be her rock, to be there for her in any capacity with the added hope that one day she would let that barrier down and let him in. This went on until for 80% of the book. For me, her hem-hawing dragged on a little too long. This is what I meant by "a healthy dose of angst".
I thought the pacing was good. The main characters came with a lot of baggage, and they needed the time to sort through it all. It did drag in a few areas, like the constant interruptions during (potentially) pivotal discussions, either by phone calls or Summer's mother "having a moment". I got a little annoyed being buoyed up only to be let down. As for character development, I was Team Joe all the way. Summer, like I said, was very slow on the uptake. I'm not a fan of a near death being used to jump start a character into deciding that life is too short to not go after what they really want. It just seems terribly cliché. There were a few steamy scenes, and the sex was consummated but not graphic. Despite my issues with parts of the story, I'd be lying if I said I didn't keep turning the pages anyway. After all the drama, I definitely wanted to reach that happy place of a HEA, especially because of Joe. I just realized that I have the first book, I just haven't read it. After this roller coaster, I'm not exactly eager for more angst, so I'll probably be saving it for a very rainy day. I think I'll stick to the author's more recent books for the time being. Also, this book can stand on its own.
Disclaimer: I received an ARC from the publisher via NetGalley for the purpose of an honest review.