This review was originally posted on
my blog
.
Not too long ago, I teased you with a gushing and sizzling hot review on
Mr. Buff by April Angel
. Remember that one? Well, April has done it again. If I thought for a minute that she couldn't top that one, I was proven WRONG. This is how I felt after reading it the first time
This is how I felt after reading it a second time. Giggity.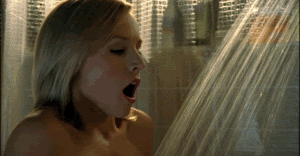 I loved the story began by establishing that Max and Kara were already well acquainted with each other. They may be boss and employee, but the office atmosphere seems very relaxed and they're friends first, sort off. Max is an insufferable workaholic and relies heavily on Kara. She on the other hand has had no social life and even less sex since she's usually at Max's beck and call. They have great chemistry that walks a fine line between lust and murder, on her part. Max is just besotted by her but won't act on his attraction for reasons that are honorable, however he has little success convincing his other head that it'd be best to keep his hands off her. Kara is seriously considering quitting her job in favor of finding time to date again, but first there's a business trip to attend to. When the plane makes an unexpected crash landing on a deserted island, the sun isn't the only thing to scorch the sand. They not only discover just how perfect they are for one another, but one the haze of lust and passion lifts and they return to the real world, will what they shared be enough to lead to something more? And what if the crash wasn't an accident? Someone is out to get Kara, and Max is determined to keep her safe and keep her his.
The author can write erotic scenes like no one else I know. It's carnal, raw, toe-curling good and so very graphic. Max and Kara do a position on the beach that is so deliciously wicked, and I marvel at any couple who can pull it off.
But this isn't just all sex and no content. I love her plots with characters who have successful careers who are ready to settle down. While some authors tend to exploit a heroine's insecurities to drag out the "chase", Ms Angel doesn't so that. When Kara finds herself falling for Max, she's a little hesitant, but she listens to her heart. The heart wants what the heart wants.Although we don't get a more in-depth back story on them, they still come across as relatable and instantly likeable. I didn't need to know about their childhoods and family life for them to pass muster.
The suspense portion of the story may have been a bit predictable, but it made Max and Kara grow closer and acknowledge their feelings a lot faster. The tone of the story was mostly flirty, playful and funny.

When she was fully naked before him, she crooked a finger and beckoned him toward her. "Let's go, hot buns." He lifted his brows in surprise at her words and she giggled.

He devoured her with his gaze. "Hot buns?"

"Oh, yeah. Your ass is so fine I want to take a bite out of it." She growled, chomped her teeth, and then licked her lips.
This is erotic romance at it's finest! I would buy every single book ever written by April Angel, and all you pervy friends of mine had better start reading! I promise you won't be sorry.
Favorite non-sexual moments of the story:
#1 His birthday surprise for her. That made my heart skip a beat.
#2 The moment they return to their island, she shares some news with him and he drops her.
Disclaimer: I received a review copy from the author in exchange for an honest review.